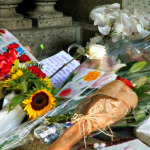 I am always fond of saying that I learn something new in orisa everyday and this week was no exception. For those of you not familiar with me, I work as a Iyanifa and Iyalorisa priestess, a cowrie shell diviner, a maker of Ifa medicines using plants and leaves and also as a physical medium of spirit and orisa. A large part of my work is attending to clients who come to sit "face to face" with a spirit guide, or, most often, Esu, the "most human" of all orisa, for a one on one about their life and all things under the sun. At times the sessions are gut wrenching and tearjerkers, other times the people are almost rolling on the floor with laughter; with Esu, especially, one never knows what is going to occur.
This week a client came to me (and they have approved my sharing of small parts of their story), beset with troubles; they wanted to talk with Esu.
It was a hot night, a restless wind swirling outside. Esu arrived quickly with his usual commanding energy and presence, cackling and cracking a joke to those present. Always the Master of Ceremonies, he settled in to get to the subject matter at hand.
The client.
As she had talked to Esu before, the approach was direct. Sometimes Esu comes in slow and from a side angle, circling in until he gets to the core nut each person has protected, or is not even aware of protecting, but in this case she laid it all on the table. A middle-aged woman, no debt, no children, paid off house, good income, but nothing was going right. All was dark and dismal, roads blocked, marriage troubles, frustration, anger and sleepless nights waking up at 3 a.m. to worry 'til dawn.
Okay. Anyone who knows a bit about the Ifa and orisa tradition would say:

"Esu will say they need to make sacrifice!"

"He will say, go to Ogun to open your road".

"He will say, let's take a look if someone (Iyami, enemies etc.), has done something against you".

Maybe. Maybe not.
Here I must insert that I have a helper at my side, a patient soul who's game for late night sessions and orders barked at 1 a.m. by spiritual powers who can be-let's just say-adamant, about what needs to be done. They act as a go between for cultural reference or choosing the proper word in English Esu is searching for.
After her litany of complaints-Esu listening quite interested the whole time-began his conversation with her:
"So, with all the hubbub in the world, the one unchanging thing that everyone has within their reach are their thoughts and their attitudes. A winner remains a winner until the end. You see, you cannot say: "Last week I was a winner but this week I'm not." You have to say: "I'm always a winner, always a believer." Like that lady that passed away today, she was a winner."

Looks exchanged between the client and helper.

Client: "I don't understand."

Helper: "Esu, which lady do you mean?"

Esu: (waving arms) "You know, that funny one."

Helper: "Funny one…."

Client: "Joan?"

In unison: "Ohhhhhh! You mean Joan Rivers!"

Esu: "Yes, Yes, her! She was a winner! Why? Because of her attitude. And she kept her attitude up when others would have withdrawn from society. People could say "Well, she had money, she kept herself looking good." That wasn't it, it was her drive and her ability to look ahead and know, "I'm going to overcome this one way or the other!"

A winner pushes right up until death comes. You either give up before your time and live a self imposed type of death, or you keep pushing. That's what you do."
The session continued on going into other areas, but after it was over I was curious as to why Esu had singled out Joan Rivers as an example to be held up during a session. This was quite possibly one of the strangest pairings (Esu speaking of Joan Rivers) to date.
I know he was pushing for us to understand that ATTITUDE IS EVERYTHING, and that if we say we have FAITH, than we must put that into action, unfailingly, and if the chips are down WE MUST ALWAYS BELIEVE THAT WE ARE A WINNER, no matter what, but what was this odd pairing of Esu on a moonlit night bringing up the name of Joan Rivers in my Ile-Ifa, my shrine? I did a little internet research and came away with a profound respect for this remarkable woman.
She was born to Russian-Jewish immigrants as Joan Alexandra Molinsky in 1933, raised in New York, and listened to the constant bickering of her parents fighting about money, though they were "comfortable". She was pudgy, in her own words, and the ugly duckling in comparison to her older more beautiful sister. She was terrified of poverty-and failure:
"I could not endure the reality that I might end up Joan Molinsky, an unattractive, nondescript little Jewish girl, run-of-the-mill, who might just as well have stayed in Brooklyn and married a druggist and had a normal life. I had come from normal life, from real life, and nobody there had been happy", she said in her 1986 autobiography, "Enter Talking."
She went to college, acted in plays and bit parts in the movies, worked at upscale department stores, but her attempts at leading a "normal" life as her parents wished, did not go well. Her first marriage lasted only 6 months. Penniless, she changed her name to Joan Rivers and hit the nightclubs of Greenwich Village to do standup comedy, much to the horror of her parents. Comedy at that time was an all-male bastion and she suffered greatly, hitting a low playing at a strip club in Boston:
"Even sobbing in the filthy shower in Boston, telling myself, 'I'm not going to do this anymore, I'm not going to do it anymore,' I had known I would keep on going, no matter what. My parents were not going to defeat me."

Jan Wallman, who booked the Duplex club in New York, recalled Rivers hauling around a clunky tape recorder to record her routine for later self-evaluation.

"She'd come in the next night with the material refined just perfectly, until she'd make it even better the next night," Wallman said in an interview on the Cabaret Exchange site.

"I never knew anybody who worked that hard."
Fast forward to years of success with Johnny Carson and then a heart crushing blow as their personal and professional friendship came to a complete end after she left his show to host her own comedy talk show. He hung up on her twice and they never spoke again. Her new show failed. She was blackballed. She could not get work.
After 22 years of marriage (in which her only child Melissa was born), her husband committed suicide on August 14th, 1987, which Joan blamed on the stress and heartbreak of what had happened with Carson, NBC and the Fox show fiasco. During this difficult time her daughter did not speak to her for almost a year as they both struggled with their pain. Joan always wanted to have a big family but several miscarriages ended those dreams and it was at the low point of her husband's suicide that she considered killing herself. What kept her from carrying it out was knowing that her daughter would be alone in the world with no family with no one to care for her. So what did she do? She fought back to "climb out of the well" and went to work.
She came back for a 5 year stint on the "Joan Rivers Show" and continued on to win an Emmy award, star in Celebrity Apprentice, create a jewelry line for QVC and host various other shows such as E! Fashion Police. She never gave up. In her documentary "Joan Rivers: A Piece of Work", which was warmly welcomed at the 2010 Sundance Film Festival, she was discussing her anxiety over getting older and staying culturally relevant. She pointed to her empty calendar and exclaimed:
"I'll show you fear. That's fear."
She fought her childhood demons. She went against the dictates of her time and broke into an all-male enclave of comedy. She stayed true to her self. She cried alone in strip club bathrooms after stand up sets where she needed that money to live off of. She lost longed for children to miscarriages, she lost the love of her life, a man she was married to for 22 years, to suicide, and she contemplated following him in the same manner. She lost her best friend in show biz and was snubbed and blackballed in the industry. She overcame all, but at the peak of her 81 years she left us much too soon, but she left behind such a shining example of human spirit that even Esu, yes, the Yoruba orisa deity we call Esu, found her life worthy of use as an illustration of what to strive for:
"A winner pushes right up until death comes. You either give up before your time and live a self imposed type of death, or you keep pushing. That's what you do."

Mo dupe o Esu, thank you Joan, may you rest in perfect peace, Ase o!

© 2016 by Farin da Silva, All Rights Reserved. Pursuant to the Copyright Act of 1976 and subsequent amendments, codified as 17 U.S.C. §§ 101-810, the works contained within are protected by United States laws and by international treaties. This includes the literary and pictorial works created by Farin da Silva contained herein, as well as any other original works of authorship fixed in any tangible medium of expression. The unauthorized copying, distributing, displaying, or production of derivative works is strictly prohibited by Farin da Silva. Copyright infringement may subject you to civil liability of a minimum of $750 per infringement for statutory damages, as well as the costs incurred to enforce these rights. 17 U.S.C. § 504. A court may award up to $150,000 per infringement. This copyright holder takes copyright infringement seriously and does enforce their rights.

Copyright protected by Digiprove © 2016 Farinade Olokun