Unedited version of http://tribuneonlineng.com/fake-ifa-priests-taking-america/
Nigerian Tribune Nov. 3, 2016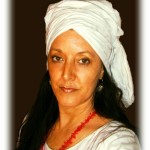 Yeye Ekundayo Adele Ifamuregun  practices the Ifa religion in the United States of America, and as a priestess of the African Traditional Religion (ATR), she has used her calling to assist people with spiritual problems. However, in this interview with ADEWALE OSHODI, the priestess laments the large number of fakes currently parading themselves as priests in the US, while also highlighting how she has found her way towards practicing her faith in a country that is not known for understanding African culture and traditions.
For how long have you been practising professionally as a priestess in America, and how does the average American see you as having a solution to their problems?
I've been working as a priestess inside the United States since coming here in 2001, and before that, working in Brazil. When you speak of an "average" American, one must understand that the portion of the population who follow Diasporic African Traditional Religions (ATRs), is very small, percentage wise, and true IFA is even less.
The "average" American as a whole is simply unaware of IFA and how it works, but people are very willing and open to anything that will pull them out of their issues. Some people are called towards the path of IFA and the orisa (irunmole), others just want help. It can be through divination, ewe oogun, sacrifices, works – whatever is needed. The Western Mind in general approaches things differently, which can take a lot of patience and guidance from my side to get people to a place of understanding.
The Ifa practice comes with placing sacrifices, which I understand, may not be permitted in the American society; so how do you go about offering your sacrifices?
Actually, people in the United States have already gone to the Supreme Court to fight for their right to conduct ritual blood sacrifice within their own shrines and temples, and won in every case, so while this is something that one must be sensitive to in terms of community and your neighbors, there is already a precedent set within the court system protecting the rights of orisa worshipers to practice their rituals in certain localities under certain constraints.
Discretion is needed, along with creativity and sensitivity. I happen to live in the countryside, with many streams, rivers, isolated roads and forests, the ocean is nearby, so this is not really a problem. I can rest items on my own property and in my own shrine so there is no issue. In Brazil, however, there are now environmental laws put into place by Evangelical politicians, and also laws which control where you buy the animals needed and where you can then keep them until the time of sacrifice; their own bid to stamp out freedom of religion and the African tradition of Ifa and orisa that took root there with the slave trade.
One big problem that we have in Nigeria is the issue of fake priests, and with the growing popularity of Ifa in America, do you also have this problem?
Absolutely, YES! Of the people who come to me, a large majority have made contact with unscrupulous or simply ignorant "Ifa" practitioners here inside of the US, though some have also been bamboozled in Nigeria. Many clients come to me spiritually, emotionally, mentally and financially bankrupt, after passing through the hands of "IFA" organizations, in the US, as well as passing though the hands of various independent priests – you name it, I have heard it, and dealt with every kind of ridiculous story there is.
This is a huge problem, I cannot stress it enough, and it has pained me for many years as I feel I am rowing against a tide of outright charlatanism, well-meaning or willful ignorance, or, in some cases, very dangerous injustices.
Just yesterday I divined for an American initiated into IFA in Nigeria, a so-called IFA priest with his own shrine having issues. He is having trouble with a certain energy and had been offering something ridiculous to them, and it was his Nigerian Awo who had told him this was a proper offering. He didn't even know that one must throw cowries or obi after making an offering to check if the offerings have been accepted! So this US man, with no authority in IFA – not a real Babalawo, just an initiate – opened up a shrine and is teaching people IFA in the US. It is ridiculously insane what is going on out here in terms of IFA, and it needs to stop.
I work closely with my family in Nigeria and most of our work consists of sweeping up the pieces of peoples' lives who have gotten involved with these  "priests" and "priestesses" who simply have no authority or knowledge to be working in the capacity as a priest or priestess, or, they might have some working knowledge but are morally and ethically not capable of turning the practice into something other than a moneymaking tradition, or, they simply do not have the deeper understanding of Ifa and neglect to set their clients/initiates up with the fundamentals they need to know.
Although you don't have the power to tackle the rise in the number of fake priests; is there a way you are sensitising the public so that they won't fall victims?

I discussed this with a very prominent person involved in IFA in Nigeria a few years back, how IFA is being taken over, modified, diluted, exploited and appropriated by cut and paste priests and those who make a quick trip to Nigeria for an initiation (or have one within the US), then think that gives them the right to practice as a Babalawo, start divining and open up shop. Some of these people are churning out books about IFA (after spending all of 3 weeks total in Nigeria), which are absolute nonsense, they open moneymaking IFA mills and churn out initiates, hold workshops geared towards Western "New Age" "healing" in the name of IFA, but people in the Diaspora have no idea they are nonsense books, invalid initiations with no odu calabash present nor truly linked priests, workshops that have nothing to do with true IFA. They are helpless like babies in the face of this – earnest in seeking – but cannot distinguish what is true IFA, as they don't know the difference. It is happening all over, with disastrous results. This is not just a "US – IFA problem" but a Yorbaland problem as well, as there is some blame to lay there.
The best I can do is write extensive blog posts and articles on my website farinadeolokun.com, talking about what IFA is and isn't, what to look for, what to watch out for, give people some basic solid knowledge and pray that Orunmila guides them, or brings me those who have been broken in trust and faith so we can set things straight and get them up and walking forward in life.
There is no one in the Diaspora who can offer initiations into IFA or under any orisa unless they somehow transplant at least a good handful of high level, wise, ethical and LEARNED priests and priestesses from Nigeria, with all of the animals needed, all of the items needed, a complete correct shrine, an igbodu with the most important item of all, the sacred Odu calabash. It simply cannot be done, unless all of the above are present. It is better for a person in the Diaspora to receive an initiation via proxy in Nigeria thru ethical and learned elders – if they cannot travel in person – than to risk their ori and destiny in the hands of someone they have not fully researched in the Diaspora. I'm sure there are people who will shake and shout over those words but that is my position after years of experience dealing with the fallout from these Diaspora "initiations" and some Yorubaland initiations.
Can you share an instance when you've had to rescue a victim who had had his 'hands burnt' by a fake priest?
There are simply too many instances to narrate. And I am speaking of both fake priests within Diaspora ATRs and also within IFA, both US and in Nigeria. I've had everything from someone getting actual serious burns on their body from gunpowder during a "ritual" to "banish negative spirits", women being sexually molested, clients being told to sell off millions of dollars worth of their properties and "give the money to IFA" (leaving them destitute), IFA initiations being done with no 4 footed sacrifice, no odu calabash, or at times even no blood sacrifice at all (which is possible with certain orisa but not within IFA initiation).
I'm currently dealing with the aftermath an American IFA priest has left behind in his "omos", who was initiated by others who have "title" and initiation in Nigeria. They are well known on the East Coast and have been initiating people into IFA inside the US for years, giving out a "hand of Ifa" with ikin of three eyes (actually there are two people I know of who are doing this). This is astounding, as any true Babalawo or Iyanifa will attest to, and is a great curse on the person, a sacrilege to Orunmila, and will do nothing but cause upheavals in the recipient's life.
I have identified at least 16 people who have received these "hands of IFA" from this man for certain, and know there are dozens more –if not hundreds more. How is it that a Babalawo doesn't know the number of eyes the ikin of a sacred hand of IFA should possess? And how is it that his elders in Nigeria have allowed this to happen? Amazing.
This is a very grave situation, yet they are still being promoted as an IFA priest. Where is the accountability?  If you speak of IFA and the US/Diaspora, you must speak of the role of Nigeria. Does anyone within Nigeria understand that in some instances they have set loose forces into the world, by their own hand under the white flag of IFA, who are not only harming innocent people but also harming the future of the IFA tradition itself? Of course not all Nigerian priests and priestesses are unethical, nor should they be held responsible for all actions of their initiates, but surely they should make an effort to distinguish which people are coming for initiation/title out of a true need and calling from IFA, and not simply from a desire to puff up their ego and embark on a moneymaking venture once back in the US, using the name of IFA to achieve that. The greed for money is truly the root of all evil.
So how does one identify a fake priest from a real one?
The example of the ikin is an obvious red flag for someone who truly works inside IFA. The issue is the initiate or client does not have this knowledge inside of the US, unless they are lucky enough to find someone who can steer them straight before disaster and spending big money. As far as blanket identification of a "fake", that is a sticky issue, because you can find people who say "a real Babalawo does not throw cowries". Well, no, actually any "real" Babalawo can use cowries; cowries are just another means of divination and you might have to use what is at hand, if needed, but in straight defined terms of IFA, if you visit a Babalawo for divination and they use opele or ikin Ifa and pull a book about odu off of a shelf in order to recite verses (don't laugh, most do in the US) this is not a capable learned priest. In the case of a woman client – if the "priest" starts sexual advances, or starts talking about being a "spiritual wife", you are in the presence of – at best – an unethical and immoral Babalawo – at worst, a charlatan. If there is any kind of work with candles, glasses of water on a "shrine" (other than to make ibori or using a glass holding water in feeding/calling/"cooling" an orisa etc), you are dealing with a Diaspora priest (charlatan or not).
But if a priest/ess is presenting themselves as IFA only, ask if they came from an ATR before entering IFA – which tradition it was, were they fully initiated, by whom, where, when. I usually ask my clients to describe exactly what took place in their IFA initiation if they had one, where it was, who took part, how many Nigerians were present (if any), was there blood sacrifice, which animals and items, what was the odu given them (if any), the background and origin of the priest or priestess, was the odu calabash present (if a man, or does the woman know if one was present), were their eyes bathed with the proper herbs before entering the igbodu, many questions.
Also, In the case of otas and orisa, sometimes people send me photos of the inside of their pots when they suspect something is "off" and things are not going well; you would be surprised what turns up inside of them. Sometimes there are stones and pebbles where no stones should ever be, coins, pyramids, crystals, colored "gemstones", signs that this is Diaspora practice and not IFA practice. Yes, there are differences in how "pots" are made within Yorubaland; some of these items mentioned above were made in the Diaspora and others were made in Nigeria, but all were supposedly "made in IFA".
I suspect that a making of pots in Nigeria done in accordance to what the Diaspora client (with dollars in hand) knows as "true", "familiar" or "authentic" in their own original Diaspora "knowledge", is creeping into Nigerian IFA and orisa practice because some Nigerians are acquiescing to these taste dictates, perhaps out of politeness (and the fact they are receiving money so don't want to contrary the foreigners), and they might not feel it matters in the long run and let it slide – but it does matter – because the IFA tradition is being modified by outside Diaspora tastes and dictates, whether anyone in Nigeria is aware of it or not, participating in it or not, cares or not.  This cannot and should not happen.
My simplest advice in a nutshell is for a person to always trust their ori, their head, their higher self, that feeling in the pit of the stomach, the small voice inside of them. How do they feel in the presence of that person? Does the person offer guidance and explanation of how the IFA system works? Does it make sense? Are they asking for big money for immediate initiations when you have only just met them? Are they making financial demands that are far beyond what one can afford? Do they offer to do works that harm others instead of simply defending via "return to sender"? If you are feeling uncomfortable, there is usually a good reason for that.
Those who willingly harm and cheat others will end up paying, sooner or later, and those who have suffered at their hands, their own victory will come. The travesty is that the good name of IFA is being soiled by charlatans, and by people in the Diaspora who are "loving" IFA and orisa to death with their own egos and concepts, financial ambitions and their "Westernizing" of the principles of the IFA system.
My prayers are always with the good Babas and Iyas of Nigeria, my family, and especially the so-called "bush Babas and Iyas" (the ignorant of Nigeria call them "illiterates"), who hold the true and correct lineage upright and are examples of Orunmila incarnate in action, this precious gift of IFA the Yoruba people have so far managed to preserve and be sustained by. May Olodumare, IFA and all irunmole guide, protect and bless Yorubaland, her people, and the nation as a whole, ASE O!

Copyright protected by Digiprove © 2016 Farinade Olokun